Growing Adaptive Organizations
A Practical Guide for Designing your Own Transformation Journey
Conducting an Agile Transformation on an organizational level must be an holistic approach. It is quite complex and can seem overwhelming, especially in large companies.
With this practical "Travel Guide for Growing Adaptive Organizations" we want to share our learnings and insights which we have been gathering for years now on varies transformation journeys.
Using the metaphor of a Travel Guide, we want to provide you with
A Transformation Map – which shall give orientation but also inspiration on how to design your very own Transformation Journey Route
Travel Reports – example stories of different Transformation Journeys, taken from real life, to make such routes more tangible and understandable
Travel Guide – patterns, principles, learnings, and failures to better prepare you for your Transformation Journey
Transformation Map
When starting a journey, having a map for orientation is very helpful. It shows what possible areas we could visit. It gives us ideas for our starting point but also provides us with a good understanding of the overall landscape and how areas might relate to others. The Transformation Map   displays continents and areas of interest which can help to grow an adaptive organization.  
Travel Reports
When we see a new territory, we have to decide if it is interesting for us. At best, we have a buddy or someone who has explored the territory recently. We listen to her travel reports, we are fascinated and want some of it too.
Travel Guide
When we decide to start working in the new area, we need a travel guide or a scout to lead us towards the most relevant points, helps us to avoid costly errors and dead ends. This site tries to provide a travel guide with a map, stories or scenarios as an entry point and short descriptions on the most important topics.
By the way: We have also published the Book of Agile with our ideas about Agile Transformation.
Start here to discover scenarios of other travellers
Don't panic, keep delivering
… even though strategy has just been turned upside down
This is a story of our Agile Transformation where the environment got a little … challenging when the strategy was changed mid development. We share how we were able to deliver in a changing environment. And how we had set up our organization to enable this feat.
The map is an entry point for our travel proposals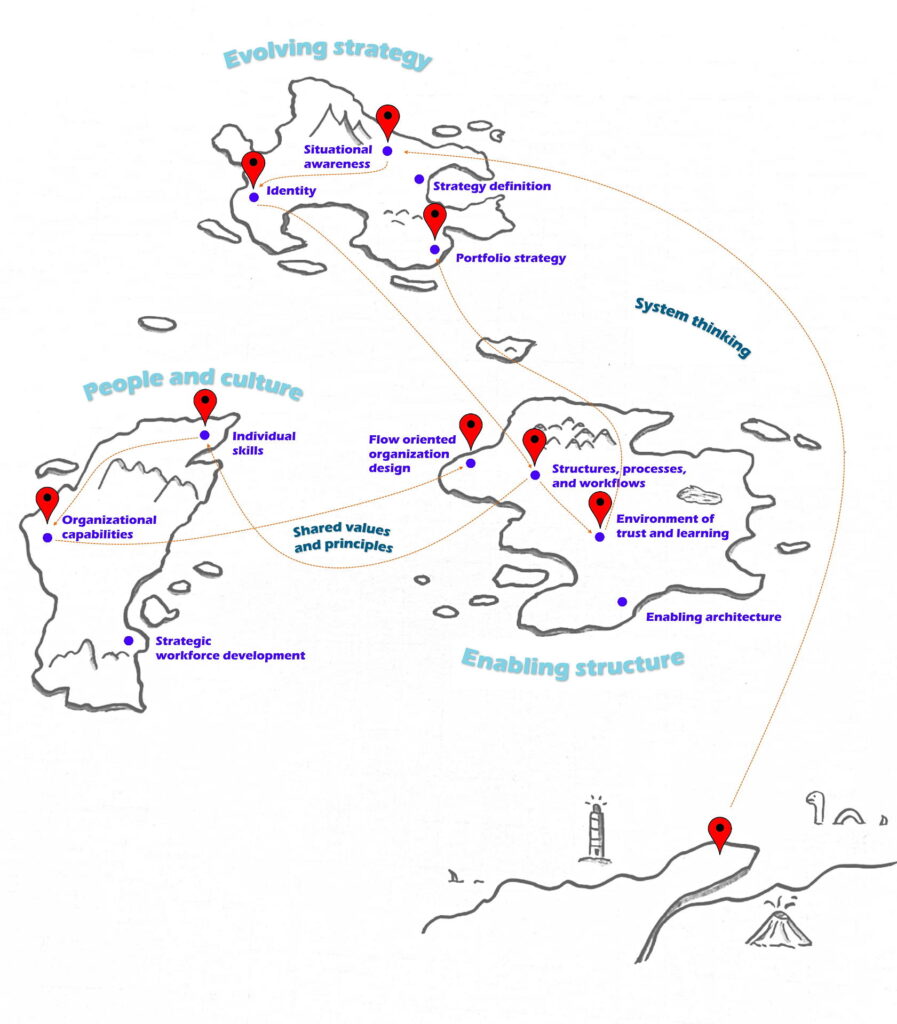 Short descriptions of the relevant vocabulary we use.
We do not strive for completeness. Instead, we prefer to link to a good source if we can find one.
We want to develop a glossary and an opinionated list of descriptions of the important areas of growing an adaptive organization.